---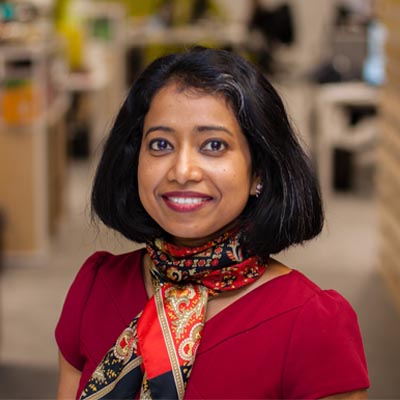 A young person seeking an inspirational role model in the tech sector should look no further than Joysy John, CEO of 01Founders, an innovative tuition-free software engineering training with a job-guarantee. Born in India, she dreamed of becoming the next Bill Gates after being captivated by coding, and has risen – via two university scholarships, in Singapore and London – to become one of the leading Edtech entrepreneurs in the UK.
Today, Joysy is known for her activism and personal mission to champion greater diversity in tech, female empowerment and accessible digital skills training. Nominet is thrilled to be working with her as a founding partner of 01 Founders, which supports social mobility, career skills development and inclusion in tech alongside coding skills, all concerns close to Joysy's heart.
"I've been fortunate to have had many opportunities to achieve my goals, so I'm determined to create those chances for everyone else," Joysy explains. "01Founders is going to change education as we know it and provide a great opportunity for people who might otherwise miss out." The free two-year immersive programme requires no experience or prior training from applicants, and they are guaranteed a job with one of the technology partners, including Nominet, at the end. "It's so exciting to be a part of that movement to transform education and employment, to provide young people with the career skills and network opportunities alongside their coding skills to make them truly workplace-ready."
Her role as CEO utilises all of her skills, from her early experience in business – she worked for JP Morgan Chase in Singapore and New York – to her more recent years in digital skills education for Nesta and Ada (National College for Digital Skills). The theme that was constant throughout, however, was technology: from her Computer Engineering degree in Singapore right through to her current roles as an Edtech advisor, consultant and public speaker.
"Technology has changed everything – it's changed the way we communicate and live our lives. It's democratised access to knowledge and has real potential in helping us manage social issues, from discrimination and exclusion to social justice," she says. It was the power of technology that captivated her at those early coding sessions at school. "I couldn't get over how learning this simple 'language' would allow me to control this machine – and this was at a time when I had so little control over my life. It felt like, if you can control a computer, you have a superpower!"
Power must be wielded wisely, however, and the industry must reflect the world it serves. "I've faced all manner of discrimination my whole life," she says, "frankly, people who look like me aren't expected to work in tech." Joysy chose to channel the prejudice to spur her on to change the situation for others. She has built networks for women and minority groups wherever she has been based, while proving her own worth in the most competitive of environments. "One of the things I'm most proud of was being selected for the JPMorgan Future Leader Programme," she recalls. Joysy was one of just two chosen from the Asia-based workforce and the most junior in terms of experience of the whole 32-strong cohort. "That felt fantastic – I was being valued for what I could do, not what I looked like or how long I'd been there."
Another stand-out moment was having the confidence to move, at the tender age of 17, to Singapore to study – the first in her family to ever do so – and commit to four years of university followed by six years of work. "My parents believed in me 100% and supported me all the way, even when other people thought it was risky," she says. "Yes, it was scary and yes, it was hard, but it changed my life and has also transformed the lives of so many others. It inspired the younger family members to dream big and grasp opportunities that we never imagined were possible."
Joysy brilliantly leverages her story to inspire the current generation of aspiring tech leaders in the UK. She is also nurturing an ambition to write a book: "I want people to realise what you can achieve if you really try. I am not the smartest person, nor the most talented person, but I have worked incredibly hard to get where I wanted to be," she says. "If you are motivated, if you have perseverance, you can achieve anything."
Applications to 01Founders are now open. Find out more about joining 01Founders via their website and Nominet's involvement in this blog from our CTO Adam Leach.