---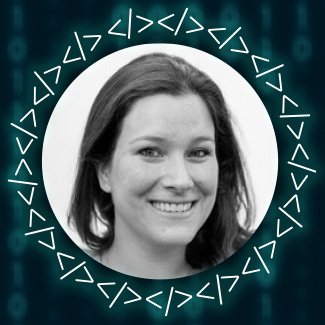 According to the Institute of Coding, digital skills are becoming a near-universal requirement for employment and are essential in at least 82% of jobs advertised online. Closing the emerging skills gap is therefore high on the Institute's agenda, as it should be for the whole UK economy given these statistics. But it's not just about skilling or upskilling people in digital, it's about connecting those who are armed with these crucial skills into the employment market – in some cases it's jobs for the first-timers, but in others it could be about welcoming them back into the industry after a break, like Fabienne Prouteau.
Fabienne sits in a book-lined study in downtown Budapest contemplating how there are probably just about as many different routes into a career in tech as there are tech jobs, but that her pathway back into tech and into her role as Front End Developer at Nominet has perhaps had a few more twists and turns than most.
"I completed my Master's Degree in Computer Science around 15 years ago, but after that I had all sorts of different jobs – management consultancy, sales, roles in healthcare and the luxury goods sector to name a few. I thought everything was fine, and I was enjoying life, but at some point I realised that what I liked most about all of these jobs was that they all involved technical systems of one sort or another, and I just kept thinking that I would prefer to be responsible for the programming behind the systems instead of operating them. Trouble was, I hadn't done a single line of coding in all that time, so to do what I wanted to do meant I had to get myself onto a course to help me refresh my skills."
Setting about changing her life started by attending a tech bootcamp. Needless to say, it wasn't all plain sailing. "Yes, life has been complicated!" Fabienne admits. "As you see from my name, I am French… but I am also Dutch, I have been in London for 15 years, and I am married to a Hungarian. I am now a mum of two, my kids are aged 4 and 2, and I have actually been staying here in Hungary for the last month or so, working for Nominet remotely for a while. It's all been extremely intense. I think if you are going to change careers with circumstances like mine, you just have to be quite determined!"
Every day is different, and that's one of the reasons Fabienne went back to coding. "You never get bored. A typical day at Nominet? Well, there isn't such a thing. My work gives me more and more responsibility the more I stay, which I really enjoy. Instead of just programming and moving on to the next ticket, my managers have been asking me to take a bit more of a project manager role, and my career is developing in a direction I am excited by. One of the projects I have been helping to manage has been to add brand new features to an app, designing the API (the application programming interface), translating the requirements into wireframes and influencing how people interact with it. It's not all just coding, coding, coding. It's taking coding to the next level. As a developer it is so good to see things from a different perspective, stepping back a bit from coding to understand the business and the products more. It makes my job more interesting and rewarding when I get to know why I am programming something new, what it brings to the customer, what the value added is."
How can someone else do what Fabienne does?  "If you have a computer science background, it shouldn't be an issue to get into this job," Fabienne says. "Having said which, even though I had a Master's Degree in the subject, I still didn't feel completely confident. 15 years is a long time to be away from the industry! So, what I did, and it's something I would recommend, is an immersive web development course. It was a three-month programme where I had to code all day long – they teach you everything you need to know to become a Front End Developer. It was helpful to do the boot camp to bring me up to date with the latest methodology and frameworks. After graduating, I was approached by Nominet, and the rest is history."
Life as a 'FED' means Fabienne currently works on the user interfaces, apps and websites. "This is Front End stuff, and pretty much what you see when you go to any website or app. But I am also now working more and more on Back End tickets and doing this with the idea of becoming a Full Stack Developer. I really love that Nominet is happy to let me progress this way and not limit me," she says. "I enjoy Front End work, but I need to do more than that now, and Nominet encourages me which is great. They give you lots of responsibility here from day one, which lets you trust yourself more, and improve. Where my career goes now is to a large degree up to me, but I have learned that if you are doing something you really love, it doesn't matter. I have ambition for the future, who knows, maybe I'll become a Full Stack Developer, or move more towards the project manager side of things. I haven't really decided yet to be honest, but whatever I choose I know that Nominet will enable me to do it."
To find out more about how to develop a career in tech, here are some useful resources:
A podcast series to help you find what role might be right for you, break down the skills required, and help you gain them at your own pace
Upskill or reskill in digital. A host of resources are available here if you want to gain news skills with flexible digital courses, skills bootcamps, ways to build tech skills and help fast-tracking to an interview for a job.
01 Founders offers free-to-access coding school – no prior qualifications needed, just an aptitude and a great attitude – with a job guarantee at the end.
Nominet careers page
Find out about careers at Nominet and search current job postings.