---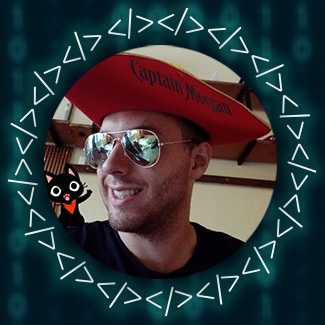 The Department for Digital, Culture, Media and Sport (DCMS) commissioned two large scale research reports recently (No Longer Optional and What Digital Skills) into the current and future demand for digital skills in the UK jobs market. They came out with some keen observations about how critical it is for us to close the digital skills gap in the UK, for economic as well as social reasons, and also pointed to how digital skills happen to carry a large wage premium. But whilst there are many reasons why a career in tech is such an attractive option, there is still a long way to go to encourage more young people into the industry. Perhaps there's no better way to demonstrate what it could mean to have a career in tech than to find out first-hand from someone who is living it. Meet Máté Tornai, Java Developer at Nominet.
"Hi there, I'm Máté Tornai. I am from Serbia, from the Balkan, and I work as a Java Developer at Nominet. I knew as a young boy at school that IT was for me.
After school I moved to Hungary to do a BA in IT and Economics at the University of Szeged. The year before I finished my studies I started working as a junior software engineer for very, very little money. I was quite poor back then, but I knew the money was not as important as the knowledge and experience I was gaining, and that side of things has definitely improved since my student days. Besides, gaining that 'hands on' experience while at Uni was definitely one of the best investments I have made in myself so far.
After Uni, my friend Daniel, who got a PhD chemistry position at Oxford University, asked me if I wanted to come over to see him. I was keen to move anywhere in Western Europe, so I said yes, and started to look for Java Developer jobs. During my search, I came across Nominet, which is based in Oxford. And now here I am at work on an enormous Codebase at Nominet, which is designed to serve .UK and .gTLDs.
What does the typical day involve? Well, I usually wake up around 6am, and that gives me enough time to get out of bed, eat some breakfast and have a shower before I go to work.
I prefer going to the office because it has different milieu, and of course that space is designed to work more efficiently than being at home. But Nominet is very flexible about this. I start work between 8am and 9am, read my emails, messages, review what I did the day before, figure out what I need to do with the day ahead.
My days are usually filled with meetings, stand-ups, discussions about features, fixes, and of course coding and reviewing and understanding other team members' code. We often work in pairs, which is good as you tend to learn code faster with a more experienced team-mate to pair with – you can learn a lot of new things, best practices, or try new ways to implement things. My work must include continual learning and development – and proper use of what I have learned – that is especially important to me, and Nominet enables me to do that.
When I started my job here, I had to investigate, understand, fix, and improve some small parts of the code, and I can tell you it was quite a challenge to work on a codebase of this size, which has nearly 100% uptime. It requires so much focus, consistency, and planning skills. Today, two and a half years after I first arrived, my job has changed quite a bit and I am responsible for solving more complex issues, working with lots of other people and helping to coordinate the team.
To be a Java Developer you must be able to write readable code. It is also important to be focused and to really like what you do, so if you have a natural aptitude for it so much the better. But in any case, being part of a talented team will help your skills and 'know how' improve exponentially. A degree in any engineering or science field helps, of course, though there are other ways in, such as training and apprenticeships. And to be honest gaining experience in a job is more effective than reading books for three years.
When I was looking for this job, one of the things I noticed and liked best about the company was the big part of its revenue that gets spent on public benefit, doing things to help others. So, I went in for an interview – and bibidy babady boo, I'm here!
I enjoy being a Java Developer and Nominet is a great place to work, it is varied and interesting, there is plenty of support available, it's very flexible too (which is super convenient when you need some time off, extra courses, work life balance). Best of all there is plenty of socialising with amazing co-workers, who all have different personalities and perspectives, which just makes everything that much more fun!"
To find out more about how to develop a career in tech, here are some useful resources:
A podcast series to help you find what role might be right for you, break down the skills required, and help you gain them at your own pace
Upskill or reskill in digital. A host of resources are available here if you want to gain news skills with flexible digital courses, skills bootcamps, ways to build tech skills and help fast-tracking to an interview for a job.
01 Founders offers free-to-access coding school – no prior qualifications needed, just an aptitude and a great attitude – with a job guarantee at the end.
Nominet careers page
Find out about careers at Nominet and search current job postings.